HOUSTON - Hundreds of people gathered Wednesday in Downtown Houston for the funeral of police Sgt. Steve Perez, who died last month in the floodwaters of Hurricane Harvey.
As Houston firefighters unfurled an American flag above the street in front of the Co-Cathedral of the Sacred Heart, officers from the Houston Police Department and agencies and departments across the county, state and country assembled for Perez's funeral Mass.
Houston police Chief Art Acevedo stood next to the family of Perez as his casket was brought into the church.
Houston Mayor Sylvester Turner said people should focus not on Perez's passing, but instead on the decades of service he gave to the city.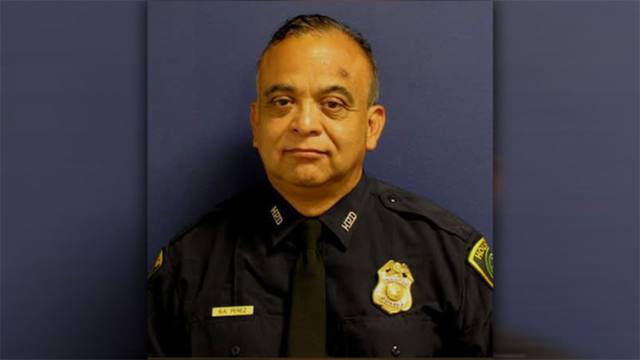 "He was on our streets for 34, 35 years, making this city safe," Turner said. "For that we will always be eternally, eternally grateful."
Acevedo said Perez's sacrifice will serve as a reminder of the best of the best.
"What we saw through his sacrifice that Sunday was symbolic of what this entire nation and world saw in the city of Houston and the state of Texas for several days," Acevedo said. "Steve, keep up the good work, my brother. We'll see you soon."
"The good Lord brought him to heaven as a symbol of all that's good in this city, in this state, and in this country.
"Thank God that this is a family of faith because their faith has given us all strength," Acevedo said. "From the minute I knew him, I knew he was a special soul."
Perez's son, Maverick, remembered his father as a man of great integrity and conviction.
"His love was pure and endless," Maverick Perez said. "It is an honor and my responsibility to be the man he wanted me to be."
"Our dad was the greatest protector, defender, and rescuer. We lived every day with fear of him leaving for work and never returning.
"We knew our father was doing something big. He had a calling. The calling to protect and serve the great city of Houston.
"We had unfinished plans and our time together was short. I know my dad is at peace," Maverick Perez said.
PHOTOS: Hundreds mourn Sgt. Perez
After the funeral, the sergeant's flag-draped casket was brought outside the church, where hundreds of officers stood at attention and surrounded the family while honors were rendered.
"Godspeed, Sergeant Perez," said the dispatcher of the officer's final call.
Turner presented the family with the city's flag, while Texas Gov. Greg Abbott presented the family with the Lone Star flag.
"I told his wife how proud we are of her, her family, and of her husband for the legacy that he stands for," Abbott said. "He is an example for all Americans and everyone across the globe."
Acevedo presented the family with the American flag that covered Perez's casket.
Police helicopters flew the "missing man" formation over Downtown, while a 21-gun salute, taps and bagpipes played out on the ground below.
VIDEO: Helicopters fly over Downtown
Perez's body was escorted to the Houston National Cemetery, where he was laid to rest in a private service.
A 34-year veteran of law enforcement, Perez drowned Aug. 27 when he drove into 16 feet of water near the Hardy Tollway and Beltway 8 while trying to report for duty. His body was found two days later.
He is the 114th HPD officer to die in the line of duty.
In lieu of flowers, the Perez family is requesting memorial contributions be sent to the 100 Club, Houston's Policemen's Burial Fund – Assist the Officer FBO Perez, 1600 State St.
Download the Click2Houston news app in your app store to stay up-to-date with the latest news while you're on the go.
Sign up for KPRC 2 newsletters to get breaking news, sports, entertainment, contests and more delivered straight to your email inbox.
Copyright 2017 by KPRC Click2Houston - All rights reserved.