As seconds ticked off Northbrook's 27-14 win over Aldine last Saturday, Raiders coach Andres Gomez's thoughts weren't on getting his first win as a head coach in his 22nd try.
They were on the kids who wore the maroon and white over the past five years. The seniors currently on the field. And everyone in between.
---
"I saw a few of our seniors who had graduated last year who were at the game. I was thinking about them," Gomez said. "I was thinking about our seniors now, who had never seen a varsity football win since they've been in school. It can't be easy to put yourself through that. The fact that these kids keep going at it and keep fighting and keep competing, and finally got to see that scoreboard be in their favor … it was very rewarding for me."
The win snapped the longest losing streak in Texas high school football at 42 games. The Raiders were winless from 2018 through 2021. Their previous win was Nov. 3, 2017, a 34-12 decision over rival Spring Woods.
"Honestly, I can't even tell you how exciting this was for the team, coaching staff, and entire Raider Nation," said senior receiver/running back Marquell Hannah, who was spectacular in the win with three carries for 120 yards and three touchdowns. "Just feels like a dream come true, you know, after waiting so many years. All the hate, all the doubt, and we finally managed to pull through. The coaches always said, 'Come out, play hard and play for each other,' and that's what the mindset was throughout the entire game."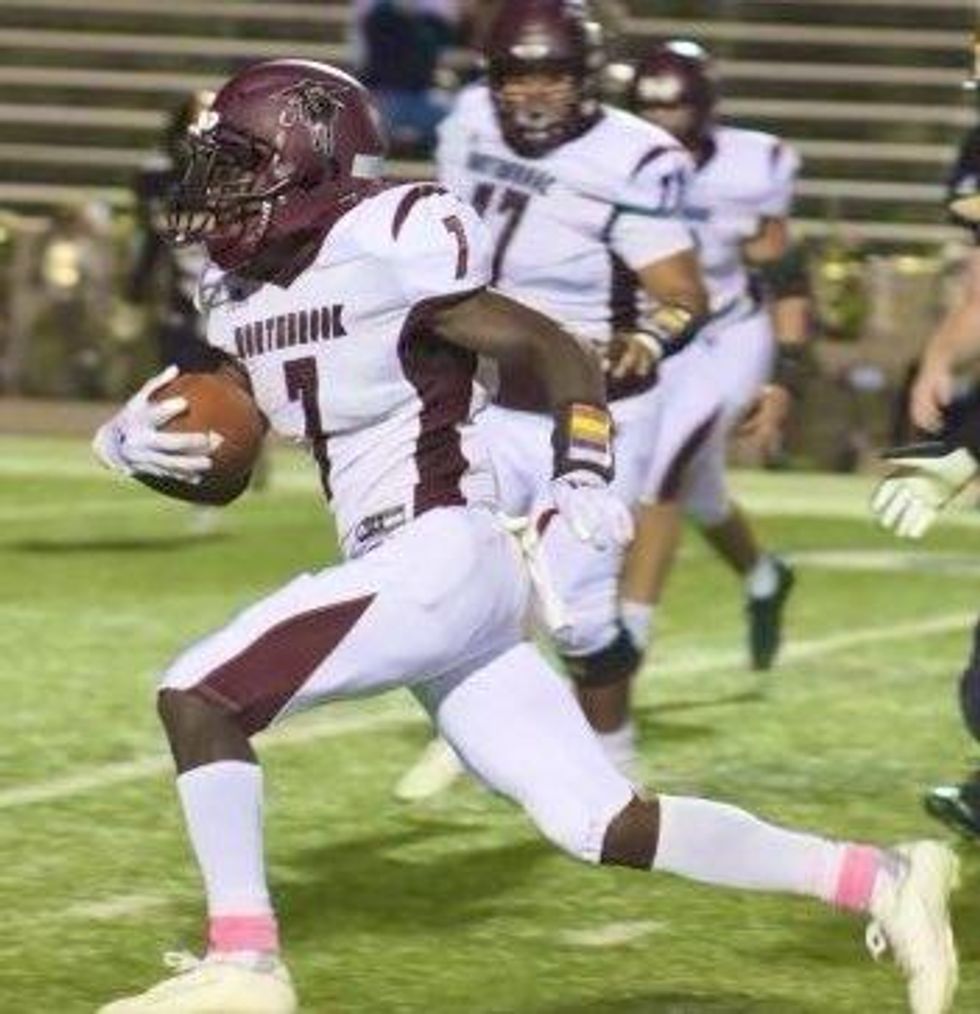 Northbrook senior Marquell Hannah rushed for three carries and 120 yards and three touchdowns in last Saturday's win over Aldine.Courtesy of Northbrook Football
Hannah came to Northbrook as a sophomore. Toward the end of that year, kids were continuously leaving the program, advising on the way out that he should do the same.
"Telling me I should go somewhere better, and that Northbrook would never win a game," Hannah said. "I never let that faze me at all. I always told them we were going to win, and that when we do, we're going to shock everybody that said we couldn't."
Hannah said players now hold each other accountable for every mistake, no matter how small. That started with Prince Echaverry, a former defensive lineman and highly respected program leader who graduated in the spring.
"I do not believe this would be possible if he didn't come in and set the standards for us all," Hannah said. "The guy was incredible. I mean, just outstanding on and off the field. He gave it his all. I would have loved to share this moment with him but I'm glad we were able to pull this off for him."
Gomez knew going into the Aldine game that it could be a favorable matchup.
"I told them that we need to prepare to win, because we don't know how to do that," Gomez said. "We're still learning how to finish games and close things out."
The Raiders led by 21 points at halftime. Second-half penalties and a couple of big Aldine plays late made things interesting, but it was an otherwise comfortable win.
Hannah was remarkable. Defensively, junior defensive lineman Brian Fernandez, senior middle linebacker Angel Reyes and junior linebacker Dade Delva were difference-makers.
"They may not be the fastest or biggest, but they really get after it," Gomez said. "They've set the tone the last two weeks, and then we were able to get the running game going and establish the ground game.
On two consecutive offensive plays from scrimmage spanning the first and second quarters, Northbrook scored on runs of 30 and 50 yards, respectively.
\u201cTouchdown Raiders!!! @NHS_Raiders1 @MarquellHannah\u201d

— Northbrook Athletic Booster Club (@Northbrook Athletic Booster Club) 1662252162
"You could see the shift," Gomez said. "Whenever things like that happen to us, you can see the air let out of the sidelines, like, 'here we go again.' But to be on the other side of that, you could feel the energy."
If Echaverry was the heart of the Northbrook culture, Gomez is its soul.
Gomez is in his third season leading the Raiders. Last year, the University Interscholastic League recognized the Mexico native as one of 15 winners for the 2021 UIL Sponsor Excellence Award, which identifies those who "enable students to develop and refine their extracurricular talents to the highest degree possible within the education system."
Gomez has seen all that Texas high school football has to offer. He won a state championship playing receiver for coach Mike Johnston at Katy High School in 1997.
But perhaps his greatest impact is the four cornerstones he's instilled into Northbrook football—Relentless, Intensity, Discipline, Effort, i.e., R.I.D.E.
"I can say Coach Gomez is, hands down, one of the best head coaches in the state of Texas," Hannah said. "Guy's a leader, a motivator, a mentor, a comedian … basically, anything you can ask for out of a coach. He's always walking around with a smile. He seems to always have that type of positive energy that you want out of a coach."
Gomez said he's never received so many text messages or Twitter notifications in one night as he did after the win. He barely slept.
Considering the socioeconomic challenges Northbrook endures, the Week 2 win was not just any victory. The statewide response and adoring congratulations that poured from dozens of coaches, former players, athletic administrators and media afterward proved as much.
"Everybody I've talked to, especially those I'm closest to that have seen the journey, understands the perseverance it took to get to this point," Gomez said. "Coaches who have done this know it's not easy. It's a lot of fun to see so many rally behind our kids, and a lot of people understand how valuable it is for them to walk off the field victorious."
It is validation for what's been coached, and what's been played for.
"We came in day one and set our eyes on our main goal, which was proving everyone wrong, and that's exactly what we did," Hannah said. "As a team, we've been doubted, not only by people outside of the school, but people inside, and we take that as motivation. We've been told there are over 1,000 students in the school, and less than 100 are playing football. Those individuals are a special group of men. They step out believing they can make a difference."
And they have.