Cypress Falls boys basketball coach Richard Flores had an inkling this season could be something special.
He saw signs as early as late November.
---
During tournaments in Austin and Cypress, even without starting point guard Xavier Scott and senior standout Jesaiah McWright, the Eagles played well, going 7-2. Cypress Falls fell to McKinney, then ranked No. 5 in the state, by a point in the Cy-Hoops Invitational championship game.
During a meaty part of the schedule, Flores saw what his team was all about.
"It spoke to me about how you need guys to really step up," Flores said. "And if you have guys who can step in, and you can make those adjustments throughout tournament play and preseason, as a coach, it makes you feel good about rotations and depth."
The Cy-Hoops Invitational was the epiphany for Flores. The Eagles fought through a talented, competitive field of Spring, Summer Creek, Cypress Springs, and Mansfield Summit before almost knocking off McKinney.
"It proved that no matter what the stage was, this team could stay together, and we could compete and trust each other," Flores said. "To have the success we did … shoot, to just come up a little short, with the year we had last year, it was definitely a good sign."
After some lean years, the Eagles are back where they feel they should be, in the regional semifinals for the first time since 2017. Cypress Falls is 34-4, its third 30-win season since '17.
"I credit what we were able to do in the offseason," Flores said. "Guys like Joseph Tugler, Tamarius Jarmon, are some of our guys that are juniors that were on varsity last year. To be able to make the jump from a freshman to sophomore and then play some varsity, I feel like if we had had an offseason (in the spring of 2020, canceled due to COVID-19) … we could've at least gotten a taste of this experience last season."
The Eagles fell on rough times prior to this season. From 2018-2021, they went 28-53 and missed out on the playoffs each of those three seasons.
It was a dramatic spiral downward for a program that went 25-9 in 2016, won state in 2017, and went 31-4 in 2018, winning back-to-back district championships the latter two years.
"It just proves that no matter what's done before you, nothing is given," said Flores, who took over the program in 2015. "A team like 2016, 2017, they worked really, really hard. They put in a lot of extra time. But I've had to remind this team that winning is not easy. And when it looks easy, it's because they rebounded, they defended, and they played selfless, rather than selfish."
Flores said he and his players now have a better appreciation for the process of success and winning. After the Eagles' 54-44 win over Kingwood on Dec. 20, Cypress Falls' 15th of the season, Flores congratulated the boys on surpassing the total amount of wins gained in 2020 and 2021.
"It wasn't just another win," Flores said. "Those constant reminders allow them to understand that there should be joy with winning. Because of the amount of games kids play these days, it's becoming more important to celebrate wins. Winning in the city of Houston is really hard. Winning in our district is even harder, because of having more time to prepare."
All seems right again at Cypress Falls.
The Eagles won their third district title in six years, going 13-1 in 16-6A. They are riding a 10-game win streak going into tonight's semifinal against Garland at Davis Fieldhouse in Dallas.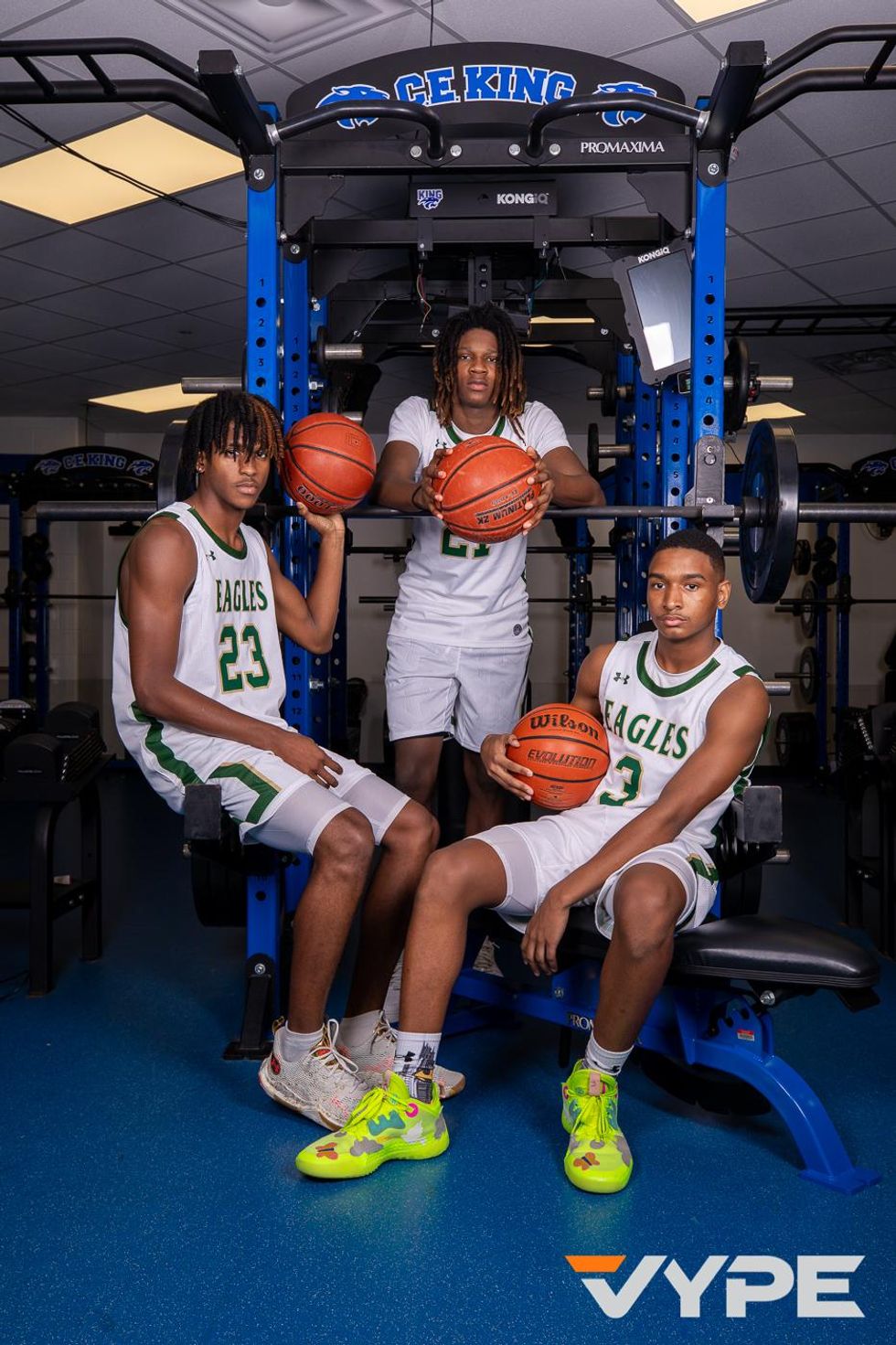 From left to right, Jesaiah McWright, Joseph Tugler and Xavier Scott.VYPE Media
The Eagles are getting production from everywhere and anywhere, exactly how Flores likes it.
Junior Joseph Tugler is an energetic 6-foot-7 forward with a 7-3 wingspan who has answered the call of Flores' expectations.
"I thought he could be a top-five player, not only in the city of Houston, which says a bunch, but a top player in the state of Texas," Flores said. "Unless they're told and given a vision, players can be not really sure. But he bought in to my vision and our goal for him. He had a great summer and he's really taken off."
McWright is a steady player "baseline to baseline," Flores said. Scott is crafty with the ball, with a knack for getting his teammates involved and making open shots.
"He's just gotten better and better as the season's gone on," Flores said.
Senior Jacob Duran is a knockdown shooter. Sophomore Daylon Porter is a strong defender who allows the Eagles to negate mismatches because of his versatility, size, and athleticism.
Cypress Falls runs deep. Off the bench, Jarmon brings energy and rim-running, providing consistency whenever Tugler is off the floor. Quincy Buchanan and Tyler Santiago are impactful in their minutes.
"Togetherness and toughness are two things we have in our locker room," Flores said. "They're bought in, and that's what it takes. I like these guys. They smile, they joke around. They bring energy. I enjoy that about this group."
Flores said he sees similarities between this year's Eagles and the '17 state title team.
"Yes, as far as the extra passes, rhythm, and the tempo we're able to play with," he said. "The beauty of having won a state championship is when we're doing something special here at Cy Falls, there's a buzz. 'Y'all might make another run, Coach.' That's what's exciting."