The McKinney Boyd Broncos have been working all season to be at the top of their performance. With big wins over the likes of Allen, McKinney, Rockwall and more this season, the Broncos currently sit at the number three spot in their district just behind Prosper and Denton Guyer. One of their top athletes, TCU commit, Ben Abeldt has played a major role in the Broncos' success this season.
---
Season in focus
The junior has been proficient at first base, pitching, and outfield for McKinney Boyd. On top of his defensive excellence, Abeldt is also consistent at the plate. Two weeks ago, Abeldt pitched a no-hitter with 10 strikeouts and only two walks in seven innings pitched. Abeldt also helped lead the Broncos to a 5-0 shutout over Denton Guyer earlier this season as well as a no-hitter against District rival Denton Braswell earlier this season.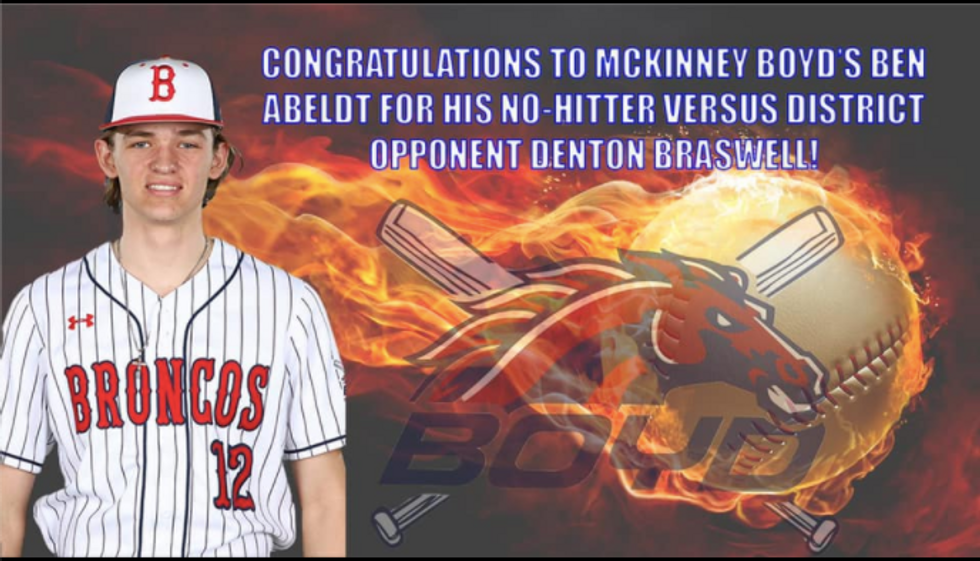 Photo Courtesy of McKinney Boyd baseball coach Brooke Court.